In Amsterdam, Christmas events are limited in 2021 due to COVID. Still, the Amsterdam Light Festival brightens the beautiful Amsterdam canals with amazing light art sculptures. Looking for more things to do in December in Amsterdam? Go ice skating at Museumplein. Eat tradional oliebollen and try out glüwein befor the bars close at 5 pm. For the ultimate Christmas experience book this winter walking tour in Amsterdam to spot all the hidden gems of the city.
Christmas in The Netherlands
The spirit of Christmas enters the Netherlands after the traditional Dutch feast of Saint Nicolas (Sinterklaas, Santa in Holland) on December 5. After 5 December, most Dutch people set up a decorated Christmas tree in their homes.
Christmas Eve
Christmas Eve, December 24, is 'Kerstavond', but Christmas eve is not celebrated in the Netherlands. Christians might attend a traditional Christmas mass followed by hot drinks with family or neighbors.
Christmas Day
December 25, it is '1st' Christmas Day. This day is an official holiday. Most people will visit their family to enjoy a Christmas dinner. The next day (26 December) it is '2nd' Christmas Day, also a holiday! The festive period ends with New Year Eve. In Amsterdam, it is celebrated heavily with fireworks.
Are shops and museums closed in Amsterdam on Christmas?
Almost all shops, museums and restaurants in Amsterdam will be closed on Christmas Day. However, the Van Gogh Museum, Rijksmuseum, Hermitage and Stedelijk Museum are open for visitors.
December 26 is Second Christmas Day ('Boxing Day'). In all of The Netherlands, shops will be closed. But in the bigger cities, like Amsterdam, most shops, museums, and restaurants are open. Due to COVID, shops will close at 17.00 hours (5 pm), except supermarket.
Things to do in December in Amsterdam in 2021
Due to COVID, in 2021, events are restricted. Museums are open until 17.00 hours (5 pm). Check out the Amsterdam Exhibitions Calendar. Shops, restaurants and bars also close at 5. There is no nightlife in Amsterdam in December 2021. Find events in Amsterdam in December. Expect to make reservations for events.
Cruise the canals during the Amsterdam Light Festival
From 28 November 2021 until 19 January 2021 the Amsterdam Light Festival takes place. Amazing light sculptures, projections, and art installations are placed in and around the Amsterdam Canals.
The light art installations are best enjoyed on a canal cruise. I recommend the canal cruises listed below because they all have a good guide on board. The guide knows about art installations.
Amsterdam Lights Festival and COVID
Because of COVID, during the month of December 2021, all shops, bars and restaurants except supermarkets are closed at 17.00 hours (5 pm). However, the canal tours during the Amsterdam Light Festivals are allowed. The lights will stay on until 22.00 hours (10 pm). So there is enough time to visit the Amsterdam Light Festival in 2021. Be aware that tickets are limited, see below for tickets.
Christmas food from Holland
Like elsewhere, food and drinks are a big part of the festive season in Holland. In the streets of Amsterdam, you will find many 'oliebollen' trucks. You can try a variety of the 'oil balls': dough fried in hot oil. It's a special food that is only eaten at this time of year, especially on New Year Eve. If you are a real foodie, I also highly recommend taking this food tour.
Speculaas
Sweets are also popular: cookies named 'speculaas' and many Dutch treats, often filled with almond. Other seasonal sweets from the Netherlands are 'tulband' (cake), 'kerststol' and chocolate of course.
Glüwein
Spiced hot red wine is also popular. It's sold at many Christmas markets in Amsterdam under its German name: 'glüwein'.
Christmas dinner in the Netherlands
At home, a classic Christmas evening in the Netherlands starts with an appetizer of French bread, sausage, and French cheese or raw herring with onions. A classical menu in the Netherlands includes shrimp cocktail, roasted meat or poultry with cranberry sauce, Brussels sprouts, chicory. This is followed by a dessert, Irish coffee (coffee with whiskey and cream) and chocolate. All served with lots of red wine!
Ice Rink at Museum Square, 15 – 26 December 2021
Among the locals, the ice rink at Museumplein is popular among children. The pond in front of the Rijksmuseum is a skater's paradise when it transforms into an ice rink all of the month of December. There is even a miniature version of Amsterdam's famous Skinny Bridge.
This year, there is no ice rink at Rembrandtplein. Also at Museumplein, there are limited stalls and eateries. The Ice Village events which are are normally at Museumplein are canceled.
Albert Christmas Cuyp
Albert Cuyp is Amsterdam's favorite old-school market. It lies in the heart of De Pijp, a fun neighborhood with lots of cafés to go for food and drinks. The week before Christmas, the Albert Cuyp market dresses up seasonally with lots of extra lights and a heavy dose of Christmas spirit.
Kerstsale art 2021
From 10 till 19 December there is a special art sale at WG Kunst. More than 1000 art pieces are for sale each priced at € 100,- Monday closed. You must reserve your entrance at wgkunst.nl.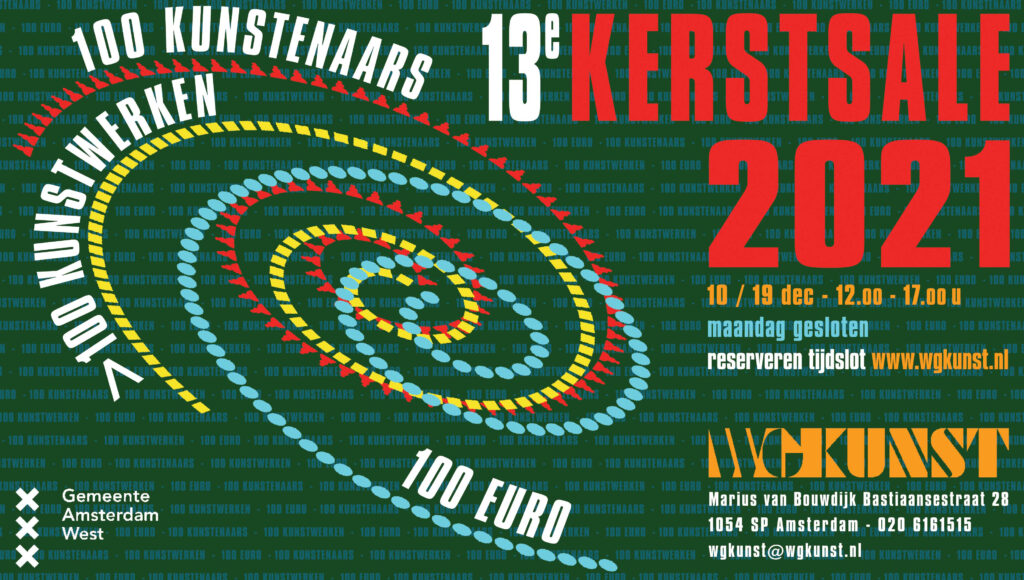 Christmas editions of the Sunday Market
The Sunday Market is a popular market in Amsterdam. All the gems are made and sold by local (Amsterdam) makers. The focus is on design, fashion, and art. The market takes place at various locations and dates. Check out the Amsterdam Events Calendar for dates.
A special Funky Xmas Market is held at the wonderful Westergasfabriek on 19 December 2021.
More Christmas markets in the Netherlands
Want more? Near Amsterdam lie the cities of Haarlem and Leiden, famous for their Christmas markets. Read more about the best Christmas Markets in the Netherlands.
Winter Hortus
Amsterdam's botanical gardens, the Hortus Botanicus, celebrates the Christmas season with its Winter Hortus. It is open every day from December 22 until January 9 until 17.00 hours (5 pm). Enjoy a stroll in the beautiful gardens, heat up at the fire or join in with one of the workshops and small group tours.
World Christmas Circus at Carré, 22 December 2021 – 9 January 2022
At the beautiful theatre Carré, you can celebrate Christmas in Amsterdam with the amazing World Christmas Circus. You will be treated to live performances of award-winning circus act from the biggest and most renowned circus festivals, like the Monte Carlo circus and the Royal Circus Gia Eradaze from Moscow. The World Christmas Circus takes place from 22 December until 9 January.