Amsterdam has a long history of live jazz. Amsterdam jazz clubs hardly exist any longer. Only a few real jazz bars remain: Alto, Bimhuis and Casablanca play jazz every night. Jazz is still popular though and many Amsterdam cafés and restaurants have live jazz every week. Sunday is a popular night for jazz in Amsterdam.
Check out the Amsterdam Events Calendar for more things to do in Amsterdam.
Here are 13 live jazz bars in Amsterdam
1. Jazz Café Amsterdam Alto at Leidseplein
Jazz Café Alto Amsterdam is centrally located near Leidseplein. The small bar has been serving up live jazz music every night for many years. The clientèle is diverse: from students, musicians, locals and tourists to business tourism.
Alto is a typical Amsterdam brown bar and though smoking is banned like elsewhere, the walls have been soaking up the nicotine for years, so it still feels like a real Amsterdam jazz club. It's small with few seats and during weekends it can fill up pretty quickly.
Alto 
Korte Leidsedwarsstraat 115
Entrance free except on some days
2. Bimhuis Live Jazz with a View
Bimhuis has been the most important stage for live jazz music in Amsterdam since it opened in 1974. Jazz legends like Charles Mingus, Archie Shepp, Cecil Taylor, Pharoah Sanders and Sun Ra all played this Amsterdam jazz club on Oude Schans near the Red Light District.
In 2005 Bimhuis moved to the modern building of Muziekgebouw aan 't IJ, just east of Central Station. The Bimhuis also has a restaurant, a late-night bar and a sunny terrace along the waterfront.
Bimhuis is an Amsterdam jazz club that is open to all new developments in live jazz music and can program quite adventurous (experimental), so check programming first.
Bimhuis
Piet Heinkade 3
Take either the 25 or 26 tram from Central Station (one stop).
3. Saturday Jazz at Cotton Club
Reserveer nu ook online via " Seatme " wil u echter vanavond nog komen eten ? Reserveert u dan telefonisch via 020-66
The Cotton Club on Nieuwmarkt first opened its doors in 1940, named not so jazzy: Café Smit, after its owner (Smit is the most common Dutch surname).
After the war, Suriname immigrants and black American soldiers introduced to jazz and marijuana into the Amsterdam scene, an excellent combination that would last until this very day. Owner Annie Smit soon fell in love with Suriname trumpet- player Teddy 'jazz cat' Cotton. A name change of the bar followed.  If the Cotton Club could speak, it certainly would have some great stories to tell.
Every Saturday from 16.30 till 20.00 there is a live jazz concert in the Amsterdam Cotton Club.
Cotton Club
Nieuwmarkt Square
Free entrance
4. Monday live jazz at Amsterdam's Nel
Café Nel states on the website that they have the best terrace for outside dining in Amsterdam and that is probably true. Café Nel also programs live jazz every Monday night during their Live Jazz NeL Sessions. Usually, young musicians from Amsterdam play in a small corner of this Amsterdam bar. From 21.00 till 01.00. 
Café Nel
Amstelveld (near Rembrandtplein)
Free entrance
5. Amsterdam Academic Club
Every Friday afternoon the Amsterdam Academic Club organizes Amsterdam Amsterdams Jazz Café. Every week there is a different band. Also, there is a meal available for a friendly price. The Amsterdamse Academische Club is part of the University of Amsterdam (UvA), but you don't have to be a member to enjoy the Friday afternoon jazz.
Amsterdamse Academische Club
Oudezijds Achterburgwal 235
Free entrance
6. Elsa's Amsterdam Live Jazz Every Tuesday
Elsa's Café ios located in the East of Amsterdam, opposite Park Frankendael. Apart from serving lunch, dinner, drinks and coffee, they air sport event. Tuesday Night is Jazz Night at Elsa's.
7. De Prael Houthavens every Sunday
Every Sunday Amsterdam's contrabass player René van Beeck invites a couple of his musical colleagues to play jazz. Location is De Prael, an Amsterdam beer brewery that found a home at Amsterdam's most recent addition: the Houthavens. When the weather is good, the stage moves outdoors. Live jazz between 15.00 and 18.00 every Sunday.
De Prael Houthavens
Nieuwe Hemweg 2
Free entrance
8. Club Dauphine – dinner & music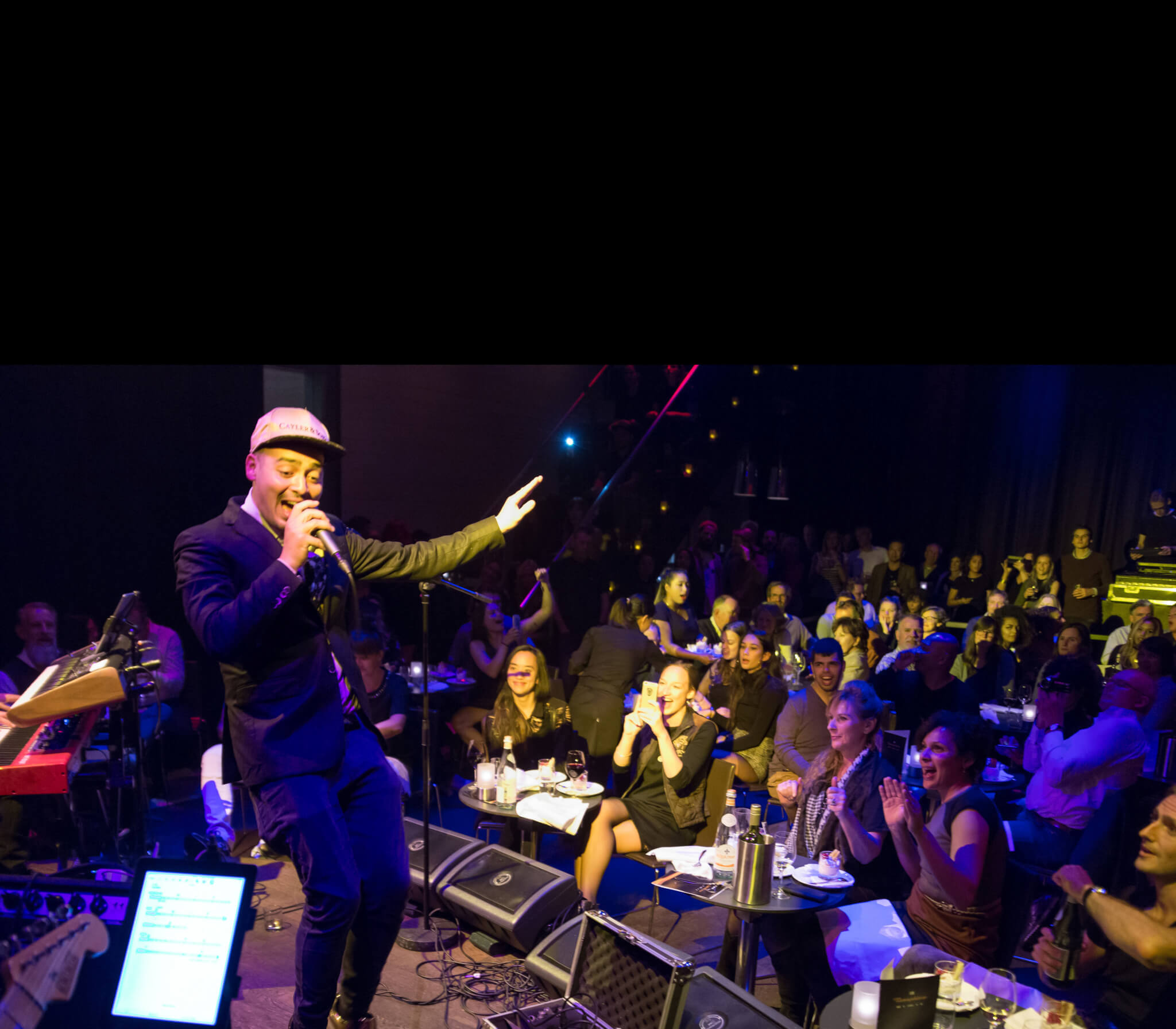 Every Friday night you can find live music in the atmosphere of a New York nightclub at Club Dauphine. A place where you can enjoy an evening of jazz, pop, funk, nu-soul, bossa or old school soul. The band plays while you enjoy a 4-course dinner at your private table.  It's also possible to buy a bar ticket and just enjoy the concert.
Dutch Saxophonist Candy Dulfer is the musical advisor of Club Dauphine, and when she has no other obligations, there is a chance to watch her perform with the band.
Club Dauphine
Prins Bernhardplein 175
€39 music and 4-course dinner
9. De Engelbewaarder – live jazz on Sunday afternoon
The Engelbewaarder is a literary café located near Nieuwmarkt in the centre of the city on a beautiful canal. There's a terrace on the waterfront, 15 beers on tap, a restaurant menu with fair prices, a very diverse crowd, and regular photo exhibitions. 
Every Sunday afternoon, there is a live jazz band, conducted by Jacko Schoonderwoerd, Victor de Boo and Leo Bouwmeesters.
De Engelbewaarder
Kloveniersburgwal 59
Free entrance
10. Pompstation live  music while you eat from Thursday to Sunday
Pompstation is a restaurant located in Amsterdam East (Indische buurt). It's well known for its steaks (Dutch cows) but it also serves vegetarians.
On Thursday, Friday, Saturday and Sunday there is live music to accompany the food. On Sunday there is a singer-songwriter night.
Pompstation
Zeeburgerdijk 52
Open from 17.00 hours (5 pm), music starts at 19.30.

 
11. Casablanca at Red Light District
Café Casablanca is an old live jazz club and karaoke bar at the Amsterdam Red Light District You can listen to big bands in this small place like the Biggles big band, the Soul Rebels big band and the Bucket big band. When there is a band playing, karaoke starts after the band. If not, karaoke starts at 20.00 (8 pm). Check the agenda (link below).
Casablanca
Zeedijk 26E
Free entrance. Be early, gets very crowded.
Sunday closed
12. Café van Leeuwen: Sunday evening jazz
Café van Leeuwen is a neighbourhood café at the Keizersgracht. The small, intimate bar serves a large variety of beers and whiskeys and bourbon to its customers, who tend to live in the area. Every Sunday, there is live jazz.
Café van Leeuwen
Keizersgracht 711
Free Entrance
13. Jazz at the Vic
Every other Sunday the Park Plaza Victoria Amsterdam hotel presents an afternoon with live jazz. The Victoria Hotel lies across from Amsterdam Central Station. Live music is from 17.00 until 20.00.
Park Plaza Victoria
Damrak 1
Free entrance
14. Live music at Café De Pianist
Café 't Geveltje is no more, but café De Pianist has taken in some of the musicians who used to play there. But it's not just jazz at the De Pianist. Every Tuesday from 20.00 till 22.30 there is a piano bar. Every last Friday of the month there is Gypsy Jazz Jam session. Check their Facebook calendar for up to date program (link below).
Café De Pianist
Groen van Prinstererstraat 41
Free entrance
14. Live Jazz at Amsterdam's Elsa's
Listen to live jazz music in Amsterdam's Elsa's every Tuesday. Elsa's is a bar and restaurant located in Amsterdam East (opposite Frankendael park). Free entrance.
Elsa's
Middenweg 73