Amsterdam is best seen from the water. Renting a private boat in Amsterdam is a fantastic way to spend a warm day. To go cruising in the 17th-century canal belt in your own rented boat with your own group of friends, you don't need a boating license or previous experience. Some boats come with a captain, other you can easily rent and operate yourself.
How to rent a private boat in Amsterdam
Renting your private boat in Amsterdam is best to be done with a group of people. By splitting the costs, you can hire the boat for a good price. On weekends and in general when the weather is nice, be sure to book your boat in advance, because everyone will hit the water to enjoy that cool breeze.
1. BoatNow –
Boat Tours including captain
BoatNow enables you to book luxurious private boat tours via their website: private boat rental Amsterdam or via their mobile app, available for iOs and Android.
The booking process can be completed via a few clicks, simply choose the 'time and date', choose your preferred boat and 'pick-up' location. It is already possible to be picked up by your captain within an hour.
There are more than 100 boats to choose from on the website and app so you can easily find a boat that suits your needs and party. It is also possible to choose from various catering & beverages options.
Prices for private boat tours in Amsterdam start at € 140 per hour. Boat rental with BoatNow always includes a captain and a free pick up (by boat) in the city center.
2. Boat Boys – Exclusive Private Canal Tours
Boat Boys provide exclusive private canal tours in their historic saloon boat 'Undine'. The boat is from 1920 and has official monumental status as it once served as a passenger transport boat between East and West Berlin.
The Boat Boys fully modernized the historic saloon boat, respecting nostalgic characteristics. It has an open deck that can be fully closed. The boat can be heated on cold days. There is a Nespresso machine! The maximum capacity is 12 people.
Prices for renting your private boat with the captain are starting from €250 per 90 minutes (for groups up to 4 people) plus € 20 per person if the group is bigger than 4. This price includes unlimited drinks (alcoholic and non-alcoholic). Reservations can be made at Amsterdamprivateboat.com and by phone.
3. Starboard Boats
For private boat rental, head over to Starboard Boats. They have a boat for hire that can take up to 40 guests. The boat comes with heated pillows and a retractable cover in case of bad weather. The boat ride is guided by a professional skipper and host. Restroom on board. Rates are €195 per hour.

4. Boats4rent – rent your own boat
The boats of Boats4rent don't come with a captain or food. You can simply pilot the boat yourself. Boats4rent gives a personal instruction about the boat and how to operate it. Max 6 people fit on these small boats.
Boats4rent is located at Amsterdam Westergasfabriek. That's 20-30 minutes walk from Central Station or a short bike ride. Renting a private boat is cheapest in the morning on weekdays (3 hours for €79). More expensive are evening hours and weekends (€107).
5. Boaty – with roof and solar panels
Some of the small rental boats of Boaty are roofed with solar panels. That means you have shade on the boat, much appreciated on hot summer days. A personal instruction about the boat, basic rules, and nice routes is included.
Again, max 6 people may board and you are the pilot. Bring drinks and snacks as you like. About the same prices apply as Boaty: from €79 to €105,-.
Boaty Bootverhuur is located in Amsterdam South at Jozef Israelkade (near De Pijp district), reachable by public transport, tram 4 and 12 or train/metro station Amsterdam South.
6. Canal Motorboats Amsterdam
Canal Motorboats is the oldest boat rental company in Amsterdam, so they claim on their website. Just like the other companies, a navigation license is not required on these boats. These boats take max 7 people on board.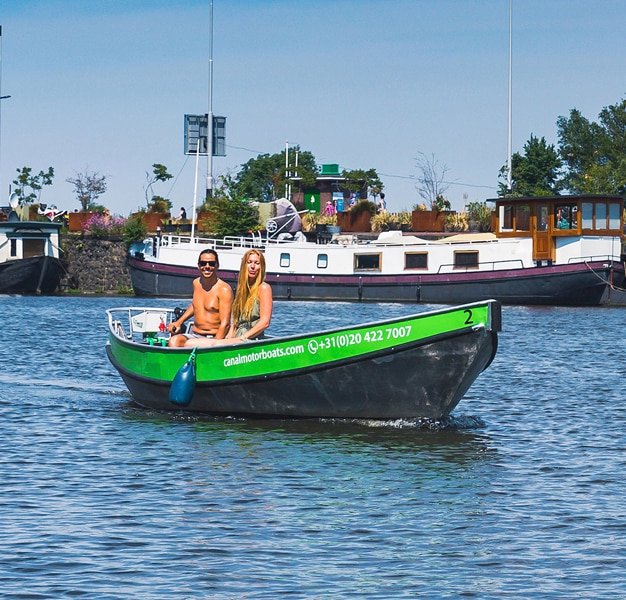 Canal Motorboats is opened the whole year round from 10.00 am till sunset or 10.00 pm. You can use the online reservation system to book a boat in Amsterdam. The boats are aluminum.
Canal Motorboats are a little more expensive:
the first hour is € 50,-
the second hour is € 40,-
the third hour is € 30,-
the fourth hour is € 20,-
Book Canal Motorboats online. The boats are at Western Islands. This is about a 20-minute walk from Central Station.
7. Ecoboats: up to 12 people
Eco boats are slightly bigger. This rental boats in Amsterdam hold up to 12 people. On weekdays, you can rent a private boat for €50 per hour. Friday, Saturday and Sunday boat rental is € 60, for a minimum of 2 hours.
Eco boats are also located at Westerdok/ Western Islands, a 20 minutes walk from Central Station.
8. Sloepdelen: also in Utrecht and Leiden
Sloepdelen also has boats for up to 12 people. Is your party bigger than 6 people, you will need a bigger boat. Renting a boat is fully online procedure. You can book a private boat with Sloepdelen online in Amsterdam, Utrecht and Leiden. After booking on the internet, you will be given a code.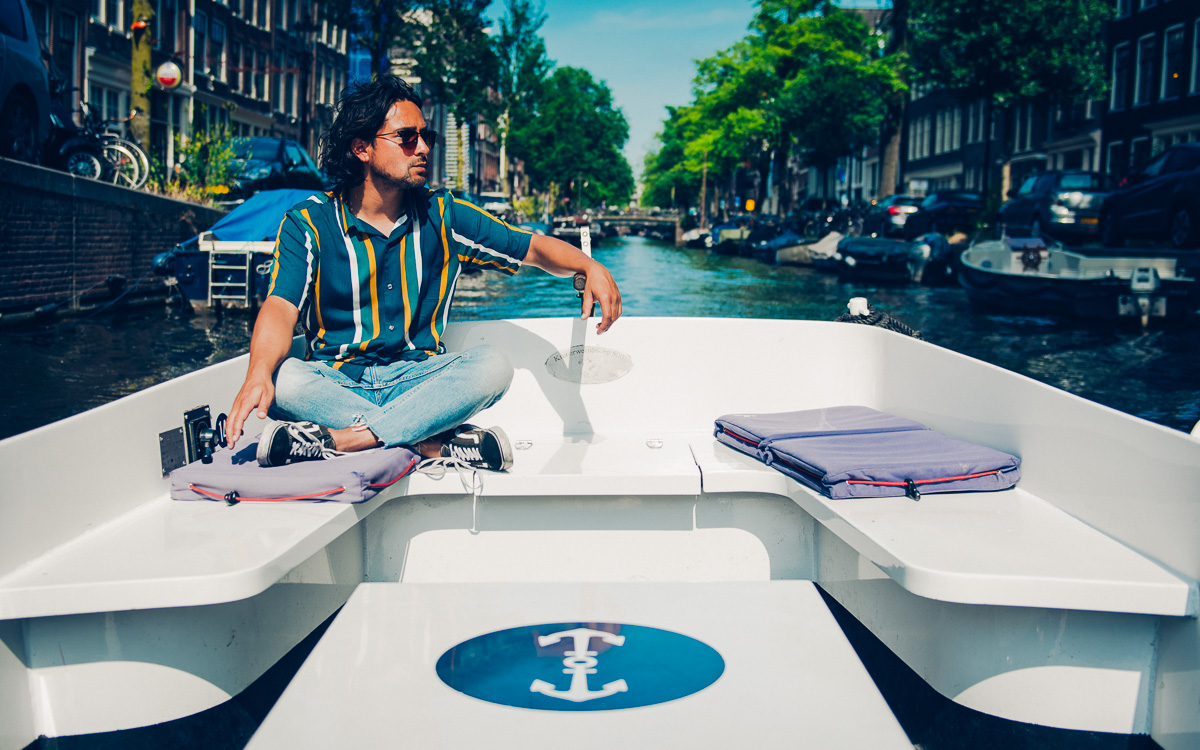 After arriving at the dock, choose your boat and follow the instructions. Possibly there is no personal assistance. You will have to make a phone call to the company and use your personal code to start the boat.
The rental boats of Sloepdelen are located at Nassaukade 69, a central location in Amsterdam just outside the Jordaan. Renting a boat for 12 people costs €60 per hour (minimum of 2 hours) in Amsterdam with a €150 deposit.
If you'd like to rent boat more often, you can become a member of Sloepdelen.nl and enjoy reduced rates. Rates go down to 30 on off-peak hours and 40 for peak hours. Sloepdelen wants to be an alternative option for people who would like to boat more often, but don't want the hassle of owning your own boat.
Tips for renting a large boat in Amsterdam
Book in advance!
Always ask them if they have a license.
Ask if they have a toilet on board. Most saloon boats have a toilet.
Be sure to check the time you need to have the boat back. Usually, the boat has to be back sometime before sunset.
Ask if you can bring your own food and drinks. If not, ask what the prices of onboard drinks are. Some prices include unlimited drinks.
Some boats can be roofed in case there is a sudden rain or if you need shade.
Ask what the minimum rental is.
Be there on time, so you don't pay for hours you didn't sail.
Tips for renting a private boat in Amsterdam
Bring coolers for the food & drinks.
Keep to the right, like in normal traffic.
Boats from the right take preference, except canal boats (the long ones), they always take preference!
Don't drink and drive while driving the boat. The Waternet police is actively fining drunk drivers!
No loud music allowed.
There is a VaarWater app for your phone.
Make sure you bring warm clothing when you rent a private boat in Amsterdam, it's much colder on the water.